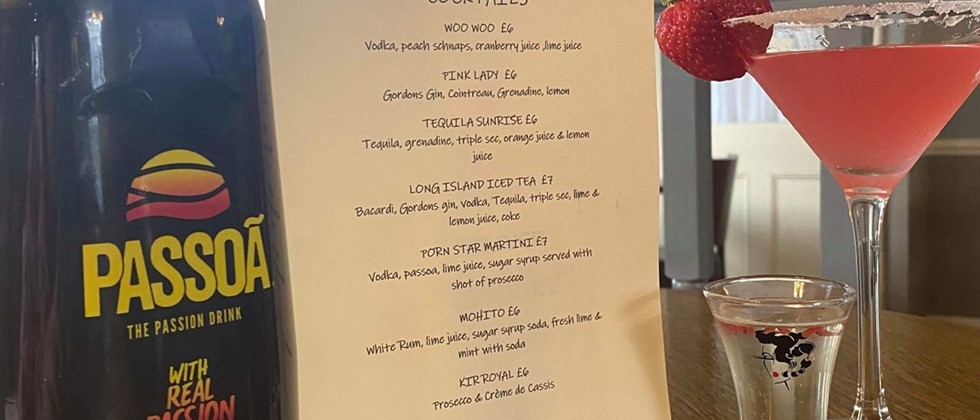 Drinks
Beer
Birra Moretti
, Heineken
(4.6%)
Birra Moretti is a quality beer made in the traditional way. It is the result of a production process that has remained almost unchanged since 1859.
Beer
Carling
, Coors Brewers Ltd
(4.0%)
The masterful blend that balances depth of flavour with the thirst quenching refreshment of the UK's no.1 lager
Beer
Guinness Draught
, Guinness
(4.1%)
Guinness is an Irish dry stout that originated in the brewery of Arthur Guinness at St. James's Gate, Dublin. Guinness is one of the most successful beer brands worldwide.
Beer
Kronenbourg 1664
, Heineken
(5.0%)
Kronenbourg 1664 is a lager with a noble history, characterized by its fine taste. Its golden hues and delicate bitterness come from selecting the best hops (the Strisselspalt), and the unique know-how of one of the French master brewers.
Beer
Stella Artois
, Stella Artois
(4.8%)
Stella Artois is one of the world's best-selling beers and is enjoyed in more than 80 countries. Its full, characteristic flavour and high quality is assured through a superior brewing process and by using the finest ingredients available.
Beer
Sussex Best Bitter
, Harvey's Brewery
(4.0%)
Our most famous and popular brand - it makes up over 90% of our total brewing capacity. Winner of the Champion Best Bitter of Britain title at CAMRA's Great British Beers Festival in 2005 and 2006. First brewed as recently as 1955.
Cider
Strongbow
, Heineken
(4.5%)
Strongbow gets its distinctive flavour and cut-through refreshment through the unique blends of bittersweet British cider apples from our Herefordshire orchards.